Your F-PACE is made of many complex components, all of which work together to get you around the roads of Madison, Morristown, Edison and Manhattan, NY. Sometimes, however, a system or component needs to be addressed, or your car needs to alert you to something. Dashboard indicators are used to let drivers know of potential engine issues, relay warnings regarding driving situations and to alert the driver that certain features are currently engaged.
To help you understand your F-PACE a little more, check out this Jaguar F-PACE dashboard light guide in which we'll look at a few unique indicators and what they mean.
Lane Departure Warning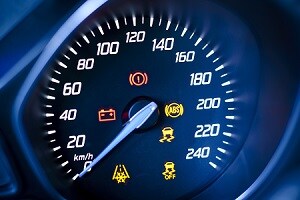 This indicator depicts a little car in the middle of two dotted lines, which are meant to represent a lane on the highway. When the indicator is gray, it means that Lane Departure Warning is enabled and ready. When it turns red, it means you've crossed over a lane marker without using your turn signal.
Dynamic Stability Control
Dynamic Stability Control, similar to traction control in many other vehicles, can individually control your vehicle's tires if you experience a loss of traction. When this system activates, the indicator-a car with swerving tire marks behind it-will flash an amber color.
Auto High Beam Assist
Auto High Beam Assist is a unique system that automatically disengages the high beams when it detects an oncoming vehicle. When the feature is active, you'll see a green high beam indicator with the word "Auto" beneath it.
Warning and Information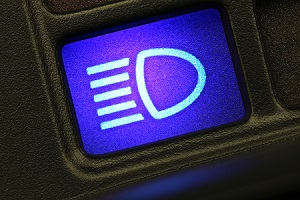 When this indicator-an exclamation point inside of a triangle-glows amber, it means there's a non-critical message in the instrument panel. When it glows red, this means there is a more urgent message. If the indicator persists, schedule an appointment at a Jaguar service center.
Auto Stop or Start
Your F-PACE has an auto stop/start system, which shuts off the engine to save fuel when the vehicle is stopped and then restarts it once your foot leaves the brake pedal. When this system activates, you will see a green "A" inside a rounded arrow.
Cruise Control
When you see a tiny green light that looks like a speedometer, it means cruise control-or adaptive cruise control-is active. If you have adaptive cruise control, the system will adjust the car's speed automatically depending on highway conditions and will then resume the set speed once it is deemed safe to do so. 
Gearshift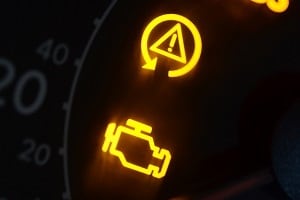 When the gearshift indicator-an arrow pointing upwards with a plus sign in the middle of it-displays on your dashboard, it is recommending that you shift up a gear. It will glow green. Note that you won't see it if you have cruise control activated.
When to Schedule Service
Be sure to consult your owner's manual in order to familiarize yourself with your F-PACE's dashboard lights. If you have a persistent dashboard light, or you have one that indicates a problem with an important system, such as brakes, contact Jaguar Parsippany and schedule an appointment with our expert technicians. We'll have you safely adventuring around Madison, Morristown, Manhattan and Edison in no time!