The 2018 Jaguar F-TYPE Provides Flash on Four Wheels
Flashiness can very much be a part of your Madison, NJ commutes, especially when you consider the 2018 Jaguar F-TYPE and all that this luxury sports car has to offer. Here at Jaguar Morris County, a quick trip over from Newark, Morristown and Livingston, you can experience what this new Jaguar model has to offer from a capability and comfort perspective. But there is more for us to unpack here, with a preview of everything from engine options to technology and interior features.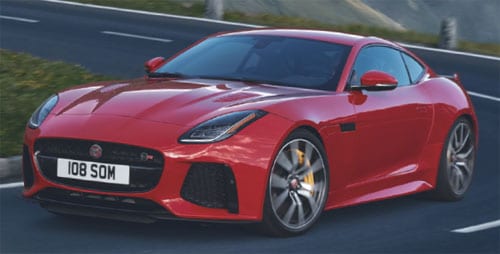 Performance that Puts you in a Position to Win
With the 2018 Jaguar F-TYPE, experience power on a variety of different levels from the driver's seat. This sports car comes with a lightweight aluminum build to stay nimble in racetrack settings, with a 296 horsepower turbocharged 2.0-liter four-cylinder engine as your base configuration underneath the hood. A more potent turbocharged V6 engine, along with two 5.0-liter V8 engines that exceed 500 horsepower and torque respectively, are available depending upon the model that you decide upon.
Lightweight Seats with an Interior that Emphasizes Refinement
With slim, lightweight seats and a lavish interior with chrome touches, multiple textures and color options, you will discover that there are many ways to customize your own 2018 Jaguar F-TYPE to meet your own expectations for comfort and style. Two large analog dials give you easy access to buttons and controls within the cockpit, as a top that can be raised or lowered in just 12 seconds comes for the convertible model of this Jaguar sports car. And while the coupe includes a fixed roof, you can enjoy up to 14 cubic feet of trunk space to pack your luggage in without sacrificing room for your guests.


Innovation is an Institution of the Jaguar F-TYPE
InControl Touch Pro is one of many technologically savvy features you will discover comes with the 2018 Jaguar F-TYPE. From planning your next route with concise navigation to a Wi-Fi hotspot for on-the-move internet access, these digital amenities are innovative in what they provide for your drive. With touchscreen intuitive controls, along with driver-assist features such as lane-departure warning and driver condition monitoring, you will find that every important angle has been covered to secure a fulfilling but festive experience on the move.
Your Next Step is a Test Drive in Madison, NJ
Come test drive the sporty 2018 Jaguar F-TYPE to experience a luxury performance car that flashes in a variety of beneficial ways. We welcome you to our Madison, NJ showroom here at Jaguar Morris County today!